As reported by Whale Alert, popular crypto tracking service, slightly more than 15 hours ago, nearly half a trillion Shiba Inu meme coins were moved from an anonymous wallet to an address that belongs to major crypto trader OKEx.
SHIB is not the only meme coin whose large transfer was spotted by the aforementioned platform recently. Two days ago, it also detected a massive transfer of Dogecoin as an unknown wallet moved 350,000,000 DOGE.
Whale moves 443 billion SHIB to sell
A total of 443,635,233,210 Shiba Inu have been shoveled from an anonymous address to the OKEx crypto exchange. This amount of meme cryptocurrency is worth $5,145,739 in fiat. This was most likely a move to sell this lump of crypto.
🚨 443,635,233,210 #SHIB (5,145,739 USD) transferred from unknown wallet to #OKExhttps://t.co/sfE94dTz0R

— Whale Alert (@whale_alert) January 18, 2023
However, overall, according to data shared by WhaleStats wallet tracker on its website, the 100 largest whales have recently greatly increased their exposure to Shiba Inu as it has again become one of their top three crypto holdings.
50 trillion SHIB stored by biggest whales
WhaleStats shows that the 100 largest wallets on the Ethereum chain now own a total of 50,767,469,828,130 Shiba Inu worth $566,625,313.
Currently SHIB is the second biggest holding on the top 10 list. Over the past week, the amount of SHIB held here has increased tremendously — from slightly over $100 million in equivalent to nearly $600 million by now.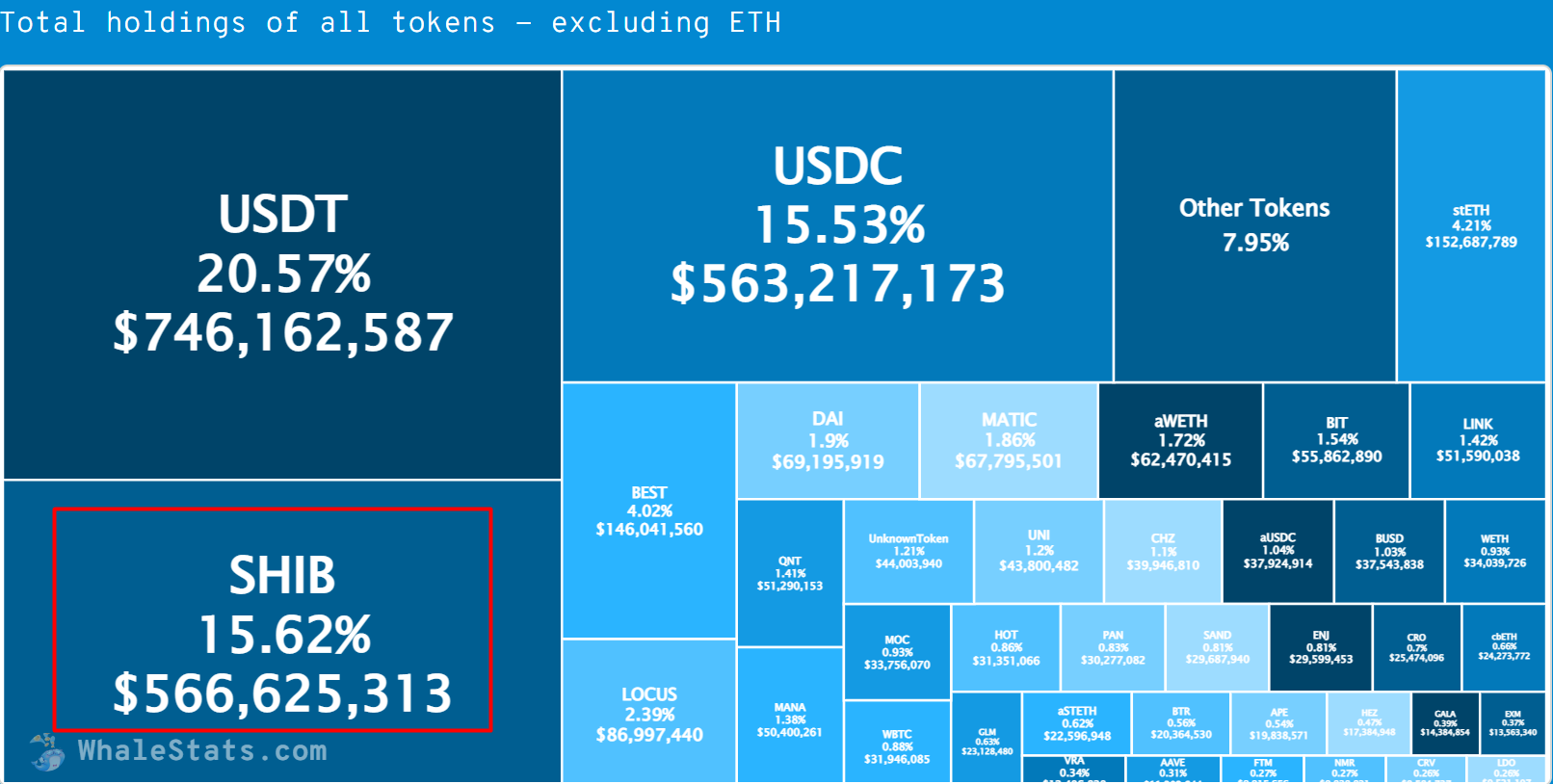 Shib jumps 20% but then drops hard
Over the past 24 hours, the second largest doggy-themed token by market cap soared by nearly 21%. A sharp fall followed immediately, though, taking SHIB down 12.5%. Recently, the token's price has been growing massively on the news of the upcoming release of Shibarium's beta version — the long-awaited Layer 2 protocol. SHIB is now trading at $0.00001114, having surged 22% in the past week.
Shibarium promises users will be able to conduct a much greater number of transactions than they do now and at much lower costs. Besides, the SHIB army is hoping that large amounts of Shib (like, trillions weekly) will be burned after that as the developers mentioned that a portion of the transaction fees will be converted into SHIB and then sent to dead-end wallets.
Another Shib-related token, BONE, has also been growing a lot in the past week, as this token is going to power transactions on Shibarium.